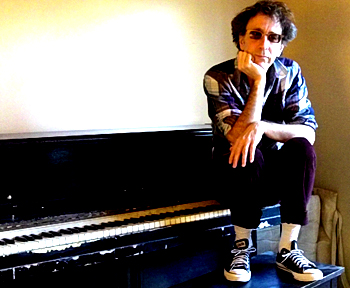 Me at the piano in Studio City, California on Feb. 17, 2011.
Photo credit: Noah Banks.
Hi there. Most of you probably know me from MY STORIES for The Credits, Wired, Fast Company, New Yorker.com, Esquire.com, Los Angeles Times and New York Times. My Wired work earned 2013 Mirror Award nomination for Best Digital Media Article. In 2016, Oxford University Press re-printed one of my Fast Company pieces for its book CREATIVITY: A Reader for Writers.
On the music front, you can check out my Rock Against Trumpism track Bye Bye Donny along with my experiment in re-purposing ancient video clips in YouTube clip Come Out Swinging and a host of twisted Americana songs from my recent "Idolizer" EP. The follow-up to 11-track CD Work Songs and Chicago quartet Wedge. My musical Wrecking Ball, a BMI Workshop finalist, pits a tradition-loving patriarch against a cut-throat real estate con artist who happens to be his own grandson.
Bio stuff: I grew up in the Old Country - - Chicago - - and moved to Los Angeles' posh Pacific Palisades neighborhood in 2000 to manage a Tribune Company website. After a year, I jumped ship and re-located to Sherman Oaks followed by a brief home ownership misadventure in Van Nuys, AKA Helltown.
I now live in a Laurel Canyon cottage type thing with the lovely Marla and our Afghan hound Violet. From here, I write about movies and television for The Credits, the Los Angeles Times and DGA Quarterly.
Ride the Wild Resume to track my fonts-gone-wild work history from rock and roller to website designer and pop culture pontificator.
Travel notes: I got away from it all for a three-month 1996 sabbatical on Pawley's Island in South Carolina. Here's a couple of beach shots featuring my faithful companion -- Ladies and gentlemen, it's. . . the wonder dog, Lulu. Runaway Huck and now the gorgeous blonde Violet, who has been compared to Farrah Fawcett, Jennifer Aniston and Andy Warhol.
I've also served as guest lecturer at Otis College of Art and Design and appeared on the 2014 Association of Independent Colleges of Art and Design panel "Art and Design Coverage in the Changing Media Landscape."
And then there's this
Can't get enough of "Candy Hearts" by @hughhart. The root-rock feel is so infectious & fun! http://t.co/VZIOu8fRSX #goodtunes #MusicMonday.

— Getty Images Music (@MusicbyGetty) October 6, 2014