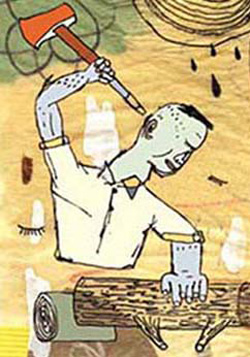 Slaving away on
Work Songs
, recorded in Chicago. Image credit: Mark Shepard.
The
Dog Park EP
, recorded during Pandemic in the laundry room of my Laurel Canyon bungalow, is now available on BandCamp, Apple Music, Amazon Music and SoundCloud.
I couple years earlier I explored my twisted Americana variation on pop music with the four-song EP IDOLIZER.
Wrecking Ball: A Musical , set in the psychotic world of Los Angeles real estate, made it to the 2010 BMI Musical Workshop finals and currently seeks a home in the Los Angeles theater community.
10 songs for the New Depression went into my 2010 record How to be a Millionaire.
Chicago rock fans might remember my band Wedge. SlipDisc Records released our debut album to substantial college radio play and rave review from College Music Journal, describing the album as "A GUITAR-FUELED POP WONDER...Wedge has a mighty firm grasp on its own pop sensibilties...add the amount of melodic care that's spoonfed into each song, and what emerges is a solid collection of infectious, memorable tracks."
Before moving west, I recorded my first solo album Work Songs. The 11 tracks, featuring some of Chicago's finest guitar slingers, was produced at Rax Trax Studios.
Along the way I've worked with exceptional collaborators. They include Nashville-based singer-songwriter Doug Hoekstra, with whom I wrote Fat Man in a Car; Russian emigre Alex Kharlamov, who mixed How To Be a Millionaire at his Sherman Oaks home studio; Chicago composer Rokko Jans, who scored House of Games and invited me to contribute to his musical staged at the David Mamet-founded St. Nicholas Theater; and soul diva Suzanne Palmer, featured vocalist on many top ten Billboard dance hits.
My band Huge Hart was inducted in 2021 to the The Illinois Rock and Roll Archive.
The Chicago Reader listed my New Wave group The ODD in its ongoing series The Secret History of Chicago Music. Live recordings include this performance of "All Fall Down" at the city's infamous rock club Tuts.