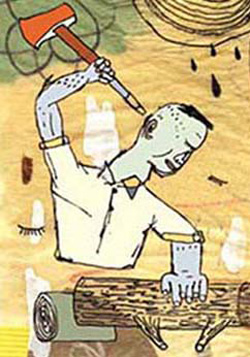 Slaving away on
Work Songs
, recorded in Chicago. Image credit: Mark Shepard.
My 2015 twisted American album-in-progress Idolizer includes this three-song sneak preview.
Wrecking Ball: A Musical , set in the psychotic world of Los Angeles real estate, made it to the 2010 BMI Musical Workshop finals and currently seeks a home in the Los Angeles theater community.
10 songs for the New Depression went into my 2010 record How to be a Millionaire. Give a listen at myspace.com/hughhart.
Chicago rock fans might remember my band Wedge. SlipDisc Records released our debut album to substantial college radio play and rave reviews.
Before moving west, I recorded my first solo album Work Songs. The 11 tracks, featuring some of Chicago's finest guitar slingers, was produced at Rax Trax Studios.
Along the way I've worked with some exceptional collaborators. They include Vikki Gurdas' currently my favorite singer in L.A.; Russian emigre Alex Kharlamov, who mixed How To Be a Millionaire at his Sherman Oaks home studio; Chicago composer Rokko Jans, who scored House of Games and invited me to contribute to his musical staged at the David Mamet-founded St. Nicholas Theater; and soul diva Suzanne Palmer, featured vocalist on a bunch of top ten Billboard dance hits.