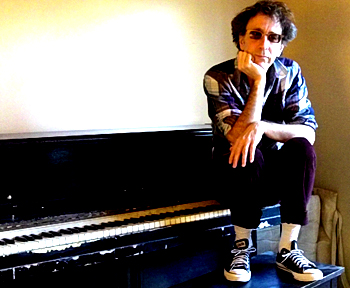 Me at the piano in Studio City, California on Feb. 17, 2011.
Photo credit: Noah Banks.
Hi there. Some of you may know me from
MY STORIES
for
Los Angeles Times
,
New York Times
The Credits
,
Wired
,
Fast Company
,
New Yorker.com
and
elsewhere
. My
Peter Jackson interview
earned a
2013 Mirror Award
nomination for
Best Digital Media Article
. In 2016,
Oxford University Press
re-printed one of my Fast Company pieces for its book
CREATIVITY: A Reader for Writers
.
I served as guest lecturer at Otis College of Art and Design and appeared on the 2014 Association of Independent Colleges of Art and Design panel "Art and Design Coverage in the Changing Media Landscape."
On the music front, my four-song EP Dog Park landed on FVM music blog's Hot Picks Playlist, which described the tracks as "Superb rock-pop." Also, from Alt77: "I was dancing all around while listening to this. Infectious, damn it. The melodies are also really good." We All Want Someone to Shout For: "A big confident chugging rock anthem with big confident production work." American Pancake: "Great track." Top Indie Alt: "Nice track. Enjoyed the vibe." Atlas Atlas: "I like the creativity in this work." Recorded over the pandemic summer in the laundry room of my cottage rental in Laurel Canyon, the tracks include 27 Shades of Blue, which attempts to reckon with an American landscape in which the lives of Black kids, men and women have been destroyed by racism. Title track Dog Park tells a short story involving a car crash, white light and recovery. Guitar rocker How to Be a Millionaire dreams big from the point of view of a desperate guy living under a bridge. And my ballad If It Works for You follows a couple in a broken down car on a cross country trip as they try to patch things up.
In 2020, I released Rock Against Trumpism track Bye Bye Donny.
Bio stuff: I grew up in the Old Country - - Chicago - - and moved to Los Angeles' posh Pacific Palisades neighborhood in 2000 to manage a Tribune Company website. After a year, I jumped ship and re-located to Sherman Oaks followed by a brief home ownership misadventure in Van Nuys, AKA Helltown. I now live in a Laurel Canyon cottage with the lovely Marla and our Afghan hound Oliver. From here, I write about movies and television. UPDATE: In January 2021 I traveled cross-country on Route 66 with wife and dog back to Chicago, where the temperature clocked in at 17 degrees.
Chicago Reader featured my band The ODD in its Secret History of Chicago Music series.
Travel notes: I got away from it all for a three-month 1996 sabbatical on Pawley's Island in South Carolina. Here's a couple of beach shots featuring my longtime companion -- Ladies and gentlemen, it's. . . the wonder dog, Lulu followed by runaway Huck and the gorgeous blonde Violet, who drew comparisons to Farrah Fawcett, Jennifer Aniston and Andy Warhol. My current best friend is Oliver, named after Oliver Twist, rescued from the streets of Mexico City.
And finally, this animated resume tracks my fonts-gone-wild work history from rock and roller to website designer and pop culture pontificator.